Model Standards for Civil Participation In The Decision-Making Processes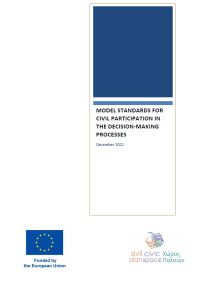 <- Kütüphaneye geri dön
Model Standards for Civil Participation in Decision-Making Processes
Aim of the Standards: These standards aim to enhance and facilitate participation in decision-making processes by individuals and civil society. They draw inspiration from the European Commission and Council of Europe, emphasizing the importance of involving civil society organizations (CSOs) in the decision-making process. These standards provide a framework for including CSOs in the development, implementation, and evaluation of policies and are adaptable for any political body seeking to promote democratic decision-making.
Scope of the Standards: The standards apply to the preparation of legal texts, normative documents, policies, and strategies adopted by institutions. They encompass various levels of civil participation, including information provision, consultation, dialogue, and active involvement. An institution adopts these regulations, designating an entity to monitor implementation. Every document developed by the institution should include a description of how it was consulted with civil society.
General Provisions: An official is appointed to oversee public consultations, their facilitation, monitoring, and improvement. The institution establishes a website section for publishing draft documents, consultation information, and contact details. A consultation plan outlines methods, coordinators, schedules, and information dissemination. The process includes a regulatory impact analysis, ensuring transparency at every stage. During consultations, principles of mutual respect, independence, openness, transparency, accountability, non-discrimination, and accessibility guide the process.
Provision of Information: This is the initial step in civic participation, providing timely and accessible information to the public. The institution publishes information related to consultations on its website, utilizing diverse communication channels. Responsible individuals are designated for each consultation.
Consultation: Consultation is a two-way communication process enabling the institution to collect opinions from CSOs and citizens. Engagement begins early in the decision-making process, with announcements published at least 4 weeks in advance. Comments received are published within 3 working days after the consultation ends, and a summary of all comments and their disposition is shared within 15 days.
Dialogue: Dialogue is structured two-way communication, often involving public hearings, advisory councils, or working meetings. The standards for consultation are maintained, with a focus on broad engagement.
Active Involvement and Partnership: Active involvement extends beyond dialogue, allowing CSOs to co-draft documents and participate in decision-making. Joint bodies or working groups are established through open calls for CSO participation, with transparent procedures ensuring CSO independence.
Monitoring and Evaluation of Participation Practices: A committee, equally composed of CSO and institution representatives, monitors and evaluates participation effectiveness. The institution provides training to civil servants in effective consultation. These standards offer a comprehensive framework for democratic decision-making and civil participation.
İndir